Custom Hybrid Circuits and Memory Modules
Available Fairchild Hybrid Technology
SAC-TEC hybrid circuit and memory module technology has been derived through the acquisition of the captive hybrid manufacturing facility of Fairchild Space and Defense Corporation in Frederick, Maryland. This facility has supported Fairchild's system development needs for customized hybrids and memories since 1986, The combination of SAC-TEC component engineering skills plus intact hybrid design and manufacturing expertise bring to the Hi-Rel marketplace a new source of hybrid technology components that satisfy today's military and space requirements.
Products and Technology
Memory Modules: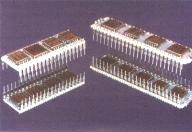 The former Fairchild hybrid facility, now incorporated as SAC-TEC Micro Devices offers a broad line of military memory modules for the space and military industry. Small memory arrays from 32Kx8 to the large arrays of 512K X 32 are available in SRAM, Flash, EEPROM and DRAM organizations. SAC-TEC is currently supporting High-Density module programs carrying 40 each of 8 Meg Flash die mounted. on both sides of a single module in a 1.50 X 4.25 X 0.30 inch footprint.
Back to top
Hybrids: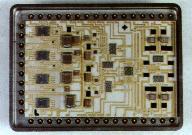 SAC-Tec Micro Devices can fulfill your custom hybrid needs at 'any level from "black box" specifications to industry standard designs, to the production of customer designed prototype circuits. SAC-TEC's technical staff can offer their extensive experience at the initial design stage in circuit partitioning, hybrid design and optimum package selection.
If the decision to hybridize a function has not been finalized, SAC-TEC staff can often help to determine both the technical feasibility and cost effectiveness of hybrid implementation.
SAC-TEC Micro Devices provides either specific or mixed component families in Microcontrollers, Digital and Analog circuits; ASICs, Gate Arrays, SRAMs, EEPROM's, Flash and DRAM Modules in multi-chip or Hybrid configurations. At reduced costs, the availability of larger sized Surface Mount Modules is also a manufacturing option through SAC-TEC.
Back to top
Facility:
The SAC-TEC Micro-Devices manufacturing facility was designed and constructed specifically for the production of thick film substrates and the assembly of Hybrid and High Density Memory Modules. Over 30% of the total area is devoted to class 10, 000 clean-room and is fully equipped with electrical and environmental screening instrumentation.
Back to top
Test and Screening:
All products produced by SAC-TEC Micro Devices undergo 100% screening to military specifications and standards or to customer imposed Source Control Drawings. All devices will undergo environmental stress, physical stress, burn-in aging and full electrical testing at temperature extremes. Each SAC-TEC device is bar coded, serialized, tracked and recorded as required. Only through wide variations of conditions in Temperature Cycle, Hermeticity, Acceleration, Vibration, PIND, Humidity, Shock and Burn-In can true reliability devices show integrity
SAC-TEC products are designed to meet military and space standards for hostile environments in airborne, missile, satellite, radar, electronic countermeasure, down hole and ordinance applications.
Back to top
Quality Track Record
SAC-TEC Micro Devices has extensive capabilities and experience in the fabrication of hybrid circuits for military, space and other high-reliability applications using advanced manufacturing techniques in substrate fabrication, die attach, wire bond, and specialized packaging applications. Full Quality Conformance Inspections normally imposed include the Group tests from either Method 5008, per Mil-Std-883, or the acceptance tests of Mil-H-38534.
An extensive record of quality conformance and proven reliability data has been developed over the last 8 years in the manufacturing of products at the Frederick facility. Rigorous quality standards continue to be implemented. SAC-TEC would like to offer you these same high standards.
Back to top
©2001 Sac-Tec Labs, Inc.